A
scension Lutheran Church 2929 South Seacrest Blvd, Boynton Beach, Florida 33435 (561) 732-2929
Welcome to Ascension Lutheran Church
"Led by the Spirit to know Christ and to Proclaim the Love of God."
Our Mission: On behalf of all the member disciples of Ascension Lutheran Church, we invite you to enhance our worship with your presence.
Are you seeking to reconnect with a Christian community?
Are you searching for a worshiping family?
Are you eager to deepen your faith walk with Christ?
Come and grow with us in your faith journey. Join our Worship service on Sundays at 10:30 a.m.
Choir Practice 9:00 a.m.

Worship Service with Holy Communion 10:30 a.m.

Fellowship Hour 11:30 a.m.
Sign up for our church monthly Newsletter
and important email notifications.
Get prayers from all of us.
Welcome to Ascension Lutheran Church.
We are a Bible-believing Evangelical Lutheran
church that exists
to bring people in to a closer
relationship with God. Our mission,
vision, and aim is to proclaim the
true and only Hope that is found in
Christ Jesus. We believe and teach
that there is only one God, one
Celebrating 60 years of God's Grace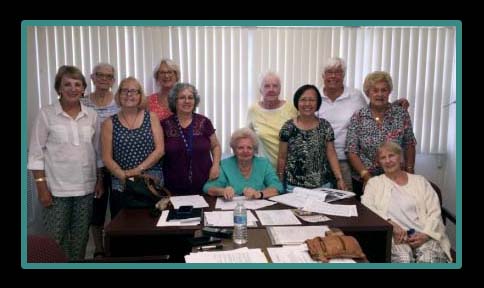 Anniversary Committee Members
(History of Ascension Lutheran – Click on photo to enlarge)
Ascension Lutheran Church
2929 South Seacrest Boulevard
5Boynton Beach, FL 33435
The Reverend Leah B Meador
Office Hours: Monday-Friday 9 a.m. to 1 p.m.
Church Office: (561) 732-2929
Church Fax: (561) 736-0744
Email: ascluth2929@yahoo.com
Administrative Assistant: Yolanda Dresback
Directions: From I-95: Exit Woolbright Blvd. (East) to South Seacrest Blvd. Turn right onto South Seacrest Blvd, and after drive South for approximately 1 mile, the church is on the right-hand side of the road.